Featured Web Host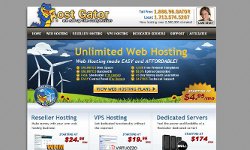 Sponsors
The biggest ever web hosting directory and hosting community!
Target your products or services and Advertise Here.
Recommended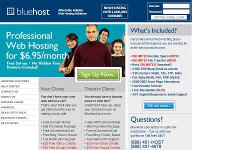 From BlueHost.com
: "BlueHost has been providing hosting solutions to thousands of business and personal web sites since 1996. Our internet hosting package helps businesses and individuals get high-powered service at a fraction of the cost."
Website Hosting Features
| | |
| --- | --- |
| URL | http://www.bluehost.com/ |
| Website Hosting Plan | only one plan availalbe |
| Price | $6.95 per month (12 month plan) with free domain |
| Sign-up Fee | No |
| Money Back Guarantee | ? |
| Disk Space | Unlimited |
| Bandwidth | Unlimited |
| Databases | 100 MySQL Databases, 100 Postgre SQL Databases |
| Domains | Unlimited Add-on Domains, Unlimited Sub-domains, Unlimited Parked Domains |
| Support | 24-7 Phone Support (Toll Free Number), 24-7 Online Chat, email (ticket) support |
| Website Builder | Yes |
| Instant Set Up | Yes |
| FTP | FTP Access, Anonymous FTP Allowed |
| Free Website Promotion | $50 Google Adwords Credit, $250 Yahoo Credits |
| WordPress Hosting | Yes |
| Supported Languages/Features | PHP 5, Perl 5, Python, Ruby on Rails, CGI-bin, CGI Libraray, SSI, MySQL Database Server, Postgre SQL Server, Javascript/DHTML, Flash/Shockwave, FrontPage 2000/2002 Extensions |
| Email Features | 2,500 POP3 Email Accounts, 2,500 IMAP Email Support, 3 Different Web Based Email Solutions, Unlimited Forwarding Email Accounts, Unlimited Email Autoresponders, Webmail (Web Browser based), Spam Assasin |
| Control Panel Features | cPanel, phpMyAdmin, Password Protected Directories, IP Deny Manager, Hotlink Protection |
| Website Statics | Webalizer, Raw Access Logs, Error Logs, Awstats (real time stats) |
| Multimedia Features | Supports Audio, Video and Flash (for live streaming, a VPS or dedicated server is needed), MIDI File Support |
| Ecommerce Features | SSL Secure Server, OS Commerce Shopping Cart, Agora Shopping Cart, Cube Cart Shopping Cart, Zen Cart Shopping Cart, Password Protected Directories, OpenPGP/GPG Encryption |
Customer Submitted Reviews
Reviewed March 2010 IP: ***.***.25.94
They're a pretty good cheap web host as long as you don't need tech support early in the morning.