Featured Web Host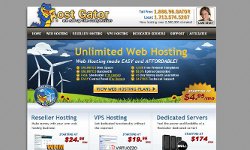 Sponsors
The biggest ever web hosting directory and hosting community!
Target your products or services and Advertise Here.
Recommended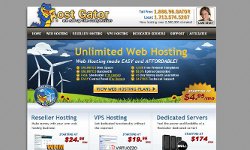 From HostGator.com
: "HostGator.com LLC is a world leading provider of shared, reseller, and dedicated web hosting. Privately held and based in Houston, Texas, the company was founded in 2002 by current President and CEO Brent Oxley, who started the company from his dorm room at Florida Atlantic University. Since then, HostGator has grown from a small hosting company with just three servers into a world leading and industry recognized hosting provider with more than 7,000 servers under management. The over two million domains hosted by HostGator make up approximately 1% of the world's Internet traffic."
"As a technology and product innovator, HostGator is able to provide its more than 225,000 customers with innovative products and services designed to complement their existing businesses. HostGator serves customers ranging from individual freelancers to Fortune 500 companies in more than 170 countries."
Website Hosting Features
| | |
| --- | --- |
| URL | http://www.hostgator.com/ |
| Website Hosting Plan | Baby |
| Price | $9.95 per month payed monthly |
| Sign-up Fee | No |
| Money Back Guarantee | Yes: 45 Days |
| Disk Space | Unlimited |
| Bandwidth | Unlimited |
| Databases | Unlimited MySQL Databases |
| Domains | Unlimited Add-on Domains, Unlimited Sub-domains, Unlimited Parked Domains |
| Support | 24-7 Phone Support (Toll Free), email (ticket) support, 24-7 Online Chat available through their website |
| Website Builder | Yes |
| Instant Set Up | Yes |
| FTP | Unlimited FTP Accounts, Anonymous FTP Allowed |
| Free Website Promotion | $50 Google Adwords |
| WordPress Hosting | Yes |
| Supported Languages/Features | PHP 5, Perl, CGI, Ruby on Rails, SSH, Python, SSI, Cron, FrontPage, Curl, GD 2, ImageMagick, Free Module Installation |
| Email Features | Unlimited POP3 Accounts, Web Mail, Email Alias, Autoresponders, Mailing Lists, Catch-alls, Spam Assasin, Mail Forwarding, IMAP support, SMTP |
| Control Panel Features | cPanel, PHPMyAdmin, Fantastico, Soholaunch, Hot Link Protection, IP Deny Manager, Custom Error Pages, Instant Blogs, Instant Portals, Instant PHPnuke, Instant Forums, Instant Guestbook, Instant Counter, Instant FormMail, Redirect URL, Web Based File Manager, Password Protected Directories |
| Website Statics | AWStats (real time updates), Webalizer, Raw Log Manager, Referrer Logs, Error Logs |
| Multimedia Features | Supports Audio, Video and Flash (for live streaming, a VPS or dedicated server is needed) |
| Ecommerce Features | Dedeciated IP Allowed, Private SSL Allowed, Shared SSL Allowed, osCommerce, ZenCart, Cubecart |
Customer Submitted Reviews
Reviewed March 2010 IP: ***.***.28.104
I've hosted most of my websites with HostGator.com and couldn't be happier. I get to host unlimited domains, unlimited disk space, unlimited bandwidth and 24-7 phone, email and online chat support which is better than the support at other website hosts.
Reviewed March 2010 IP: ***.***.92.101
For the price, HostGator is the best value overall in my opinion. And the best part is that I can pay monthly instead of yearly, which is why I started with them.