Featured Web Host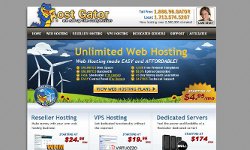 Sponsors
The biggest ever web hosting directory and hosting community!
Target your products or services and Advertise Here.
Recommended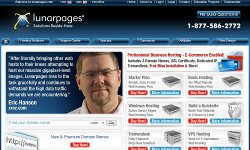 From LunarPages.com
"There are many web hosting companies in business today, so what makes Lunarpages Web Hosting stand apart from them? When comparing web hosting providers, the most important factors to consider are always the reliability of the provider and their reputation in the industry and the ability to grow your business with your web host. Lunarpages is a world leader in website hosting, known for dependability, redundancy, and affordability and we provide starter, email, domain, personal, business, windows, build a quick site, VPS, dedicated and reseller hosting packages. Lunarpages also serves customers with free ad credits from Google, MyAds and Facebook with supporting SEM/SEO services to help you get your site marketed and listed in major search engines. First and foremost, our priority lies with our ability to help our customers. Our primary focus is always providing reliable technical support and award-winning hosting service for each and every client."
Website Hosting Features
| | |
| --- | --- |
| URL | LunarPages.com |
| Website Hosting Plan | Basic |
| Price | 60 Months (4.95 USD/mo + FREE Setup) Basic, 24 Months (6.95 USD/mo + FREE Setup) Basic, 12 Months (8.95 USD/mo + FREE Setup) Basic, 6 Months (9.95 USD/mo + 30.00 Setup) Basic, 3 Months (10.95 USD/mo + 30.00 Setup) Basic |
| Sign-up Fee | |
| Money Back Guarantee | Yes. $30 Days |
| Disk Space | Unlimited |
| Bandwidth | Unlimited |
| Databases | Unlimited MySQL Databases |
| Domains | Unlimited Add-on Domains, Unlimited Sub-domains, Unlimited Parked Domains |
| Support | 24-7 Phone Support (Toll Free Number), email (ticket) support |
| Website Builder | Yes |
| Instant Set Up | Yes |
| FTP | Unlimited FTP Accounts |
| Free Website Promotion | $50 Google Adwords Credit, $35 MySpace Ads Credit, $25 Facebook Ads Credit |
| WordPress Hosting | Yes |
| Supported Languages/Features | PHP, ASP, JSP, Perl, CGI-bin, Ruby on Rails, Python, SSI, FrontPage extensions |
| Email Features | POP3 Email Accounts, SMTP, Unlimited Email Accounts, Unlimited Email Forwarding, Unlimited Email Autoresponders, Webmail (web browser based), Mailing Lists, Spam Protection, Catch-All Addresses |
| Control Panel Features | cPanel, APS script library, 4images, Coppermine, Gallery (image galleries), WordPress, b2Evolution, Serendipity (blogs), AdvancedPoll (polls), phpBook, nmsguestbook (guestbooks), Xoops, Drupal, Joomla, Mambo, Moodle(Content Management Systems), SMF Forum, phpBB (forums), eGroupware (groupware), Noahs Classified (classifieds), OpenIT (inventory helpdesk), phpWiki, TikiWiki (wikis) |
| Website Statics | phpMyvisites, phpLogger |
| Multimedia Features | Microsoft Silverlight, Streaming Video, Streaming Audio, Real Media Audio and Video Support, Flash Support, Macromedia Shockwave Support, MIDI File Support, own Mime types |
| Ecommerce Features | osCommerce Shopping Cart, Cube Cart Shopping Cart, Zen Cart Shopping Cart, Password Protected Directories, OpenPGP / GPG Encryption, Shared SSL Certificate |
Customer Submitted Reviews
Reviewed March 2010 IP: ***.***.29.101
For the price the hosting features and support are good, but not great sometimes and the I thing there should be online chat available.
Reviewed February 2010 IP: ***.***.55.34
I host multiple sites on LunarPages and it offers exactly what I'm looking for, which is cheap and reliable multiple website hosting. The only thing it's lacking is true 24-7 tech support in my opinion.